Service Network
Service & maintain vehicles

The easy way to maintain vehicles
1link Service Network has become the industry standard for the provision of the complete service, maintenance and repair function, through the definition of supplier networks, service booking, electronic authorisation and payment processing for cars, LCVs, trucks and plant.
Starting with the definition of the overall supplier network and then specifying an individual repairer, you can create a booking on-line for future SMR work. Subsequently a cost estimate and an authorisation request will be generated electronically, followed by on-line authorisation, or via the integral 1link rules based authority engine, and then receive an electronic invoice for payment.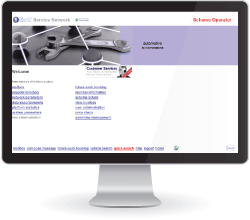 Dealers, Service Centres and Fast Fit Outlets
Do you service, maintain or repair vehicles?
By joining the 1link Service Network, you can instantly gain access to some of the UK's leading fleets - for what can be less than the cost of an advertisement in the Yellow Pages
You will not only retain your existing customer relationships, you have the opportunity to build on them and establish new clients
Imagine the benefits that timely invoice payment would bring to your business
The system is simple to implement by applying to join on-line, and very easy to use. All you need is internet access
Consider how much time and effort you will save with minimal invoice rejection and a completely paperless invoicing process
The system has been designed so that you can transact with as many 1link members as you decide, with the benefit of one user friendly system to process your business transactions
An interface to your in-house system is also available
Take advantage of a priority directory listing to promote your business to the top players in the fleet sector
To join 1link Service Network, click here. If you would like more information on 1link Service Network, please phone 0845 130 6120* or click here to complete our enquiry form. Click here to view 1link Service Network Terms & Conditions
Vehicle Fleets, Leasing Companies & Warranty Companies
Are you involved in service, maintenance and repair processes for vehicles?
A massive reduction in paperwork and minimal invoice rejection
Specify the merchant network that you need, and control supplier rates and relationships effectively
Reduce your service and repair administration, and benefit from electronic invoicing
Save time, resource and money by removing the need for job coding. Reduce authority calls, banish paperwork and automate resource-heavy processes
Manage performance and track all key events, whilst monitoring and recording who was responsible for what. 1link Service Network will give you better control and deliver a massive reduction in the cost of processing
Enjoy the flexibility of a system that can support affinity and consumer schemes; you can even provide your own branded service booking function with branded e-mails and SMS notifications
CSI Feature allows you to survey your drivers on the quality of service received from your repairers
Benefit from a number of manufacturer fleet menu pricing schemes including: Audi, Citroen, Ford, Lexus, Peugeot, Renault, Seat, Toyota, Vauxhall and Volkswagen
The scheduling and compliance functionality for fleets containing LCVs, trucks or plant allows you to schedule inspections, safety checks and servicing and effectively manage all the documentation relevant to these assets
Price Check module offers real-time network cost management
Vehicle Downtime Management allows you to automate the majority of VOR incidents